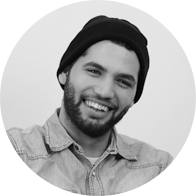 Lawyer and social entrepreneur
University of the Western Cape
Raised in a Eurocentric Cape Town, Michail grew up coming to terms with living in a continent which is not only poverty stricken, but saddled with a system and ideologies that does not represent its people.
Michail holds a Bachelor of Commerce degree majoring in Law & Economics and an LLB, both acquired at the University of the Western Cape.
While studying, Michail served as Community Service Coordinator for Students for Law and Social Justice which gave him the opportunity to speak on legal justice panels all over South Africa.
Michail is now training to become a fully admitted attorney at Cliffe Dekker Hofmeyr.
In the future, Michail has plans to establish two businesses: one involving a fresh take on greenhouses for African food security and nutrition, and the other will be a company providing affordable organic and herbal remedies.
Michail also hopes to further his studies and obtain a Master's degree in Development Finance.
Greatest achievement:
Securing Articles of clerkship at Cliffe Dekker Hofmeyr: an International law firm considered one of the best in Africa
Professional interests:
Development Finance; Competition/Antitrust law