#Zimbabwe7: Human rights defenders arrested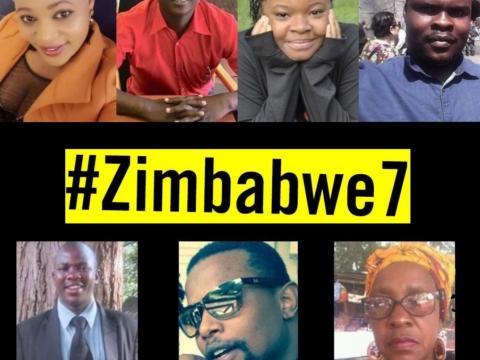 Barely a year into office, the 2nd Republic of Zimbabwe has pressed the reset button and returned to authoritarianism by arresting and harassing human rights defenders and civic society leaders. This is something that I had hoped would never be witnessed under President Emmerson Mnangagwa's rule given the political mantras that they sold us during his campaigns. The current leader of Zimbabwe famously declared himself to be, "as soft as wool." Posturing himself as a listening president, he proclaimed that, "the voice of the people is the voice of God." However, events over the past months seem to show that the leader has grown deaf to the voices he vowed to serve. The arrest of seven civil society leaders and practitioners between 20 and 27 May 2019 on their return from a capacity building workshop in the Maldives raises questions as to whether the new dispensation is prepared to open up space for civic organisations to operate; or behave in the very way that the regime it replaced used to.
The seven that were arrested are: Tatenda Mombeyarara of the Citizens Manifesto: George Makoni of the Centre for Community Development in Zimbabwe (CCDZ); Nyasha Frank Mpahlo of Transparency International Zimbabwe; Gamuchirai Mukura of Community Tolerance Reconciliation and Development Trust (COTRAD); Farirai Gumbonzvanda of Rozaria Memorial Trust; Sitabile Dewa of Women's Academy for Leadership and Political Excellence and Rita Nyampinga of the Female Prisoners Support Trust. Ironically the three ladies that were arrested, Farirai, Sitabile and Rita shared the same space with Zimbabwean government officials, led by the Minister of Information, Monica Mutsvangwa, at the annual UN Women Activists Summit held in March 2019. 
As a peacebuilding scholar, who was privileged to learn about nonviolent action from the likes of Prof Geoff Harris, Dr Sylvia Kaye, Ela Gandhi (Mahatma Gandhi's granddaughter) and Paddy Kearney, I find it perturbing that violence and nonviolence resistance should be put in the same sentence as given in the allegations levelled against the #Zimbabwe7.  Given the events of the past few weeks it begs that we briefly unpack what civil resistance is.
Civil resistance is the sustained use of nonviolent action by civilians. Civil resistance is a powerful way for people to fight for their rights, freedom, and justice - without directly harming (or threatening to harm) an opponent. Nonviolent civil resistance is far more successful in creating broad-based change than violent campaigns are (Stephan and Chenoweth 2008). This organized civic pressure approach, usually done through strikes, protests, demonstrations, boycotts, amongst many other tactics, has been used in many successful settings that had nothing to do with regime change, but empowering citizens to self-organise and participate more in issues to do with their welfare. It has been used to:
advance women's and minority rights indigenous rights, labour rights, and democratic rights.
improve transparency and good governance through anti-corruption and transparency campaigns
hold governments, corporations and other non-state actors accountable
struggle for self-determination
resist foreign occupation
campaign for public and community safety and reduce deadly violence in conflict zones
protect the environment
land reform

Civil resistance is driven by people power and the cooperation of different stakeholders (Ackerman and Duvall 2005). It is therefore key to promoting social cohesion. It can pull political power away from governments or traditional power brokers. Civil resistance takes place outside traditional political channels, making it distinct from other nonviolent political processes such as lobbying, electioneering, and legislating (Chenoweth and Stephan 2011). Tending to be more open and participatory than secretive and hierarchical, nonviolent resistance is conducive to the diffusion of power and democratic relations (Bond 1994; Randle 1994). Civil resistance focuses on achieving civic goals, has widespread civil society involvement and is distinct from civil disobedience. Civil disobedience thrives on intentionally breaking the law to achieve civic goals, which is not what civil resistance pushes for. Most, if not all civil resistance methods follow the prescriptions of the law.
Civil resistance has the capacity to address the root causes of conflict, such as the suppression of rights, rather than merely dealing with symptoms or containing a conflict. And it is powerful precisely because community-based resistance speaks to the root of the suffering that Zimbabweans have endured for decades. Perhaps this is why the Regime has arrested leading civil society actors who share knowledge with fellow citizens.
Repressing non-violent resistances can easily backfire as it can quickly galvanize more support to the cause that is being pushed for. It has been documented that internally, members of a regime—including civil servants, security forces, and members of the judiciary—are more likely to shift loyalty toward nonviolent opposition groups than toward violent opposition groups (Chenoweth 2014). Indeed, the international community is more likely to denounce and sanction states for repressing nonviolent campaigns than it is violent campaigns. Zimbabwe therefore needs to reconsider its actions, lest it dig itself deeper into international isolation at a time when it badly needs support to reverse the socio-economic mess it is in.
There is need to follow up on this article in order to understand why the #Zimbabwe7 travelled to the Maldives for the Centre for Applied Nonviolent Action and Strategies (CANVAS) workshop. What exactly are the civil rights they were or are planning to push for? Can the goals of the civil movements they belong to be achieved under a regime led by Mnangagwa that has clearly shown its unreadiness to share space with civil leaders? If their story is not told and shared, we will always remain sold to the narrative that these seven community leaders were getting trained on how to violently overthrow a constitutional government.
Hillary Jephat Musarurwa is a Peacebuilding scholar and writes in his own capacity.
References
Ackerman, P. and Duvall, J. 2005. People Power Primed. Harvard International Review, 27 (2): 42.
Bond, D. 1994. Nonviolent direct action and the diffusion of power. Justice without Violence. Boulder: Lynne Rienner: 59-79.
Chenoweth, E. 2014. Civil Resistance: Reflections on an Idea Whose Time Has Come. Global Governance, 20 (3): 351-358.
Chenoweth, E. and Stephan, M. J. 2011. Why civil resistance works: The strategic logic of nonviolent conflict.  
Randle, M. 1994. Civil resistance. Fontana London.
Stephan, M. J. and Chenoweth, E. 2008. Why civil resistance works: The strategic logic of nonviolent conflict. International security, 33 (1): 7-44.