Welcome to our new scholars!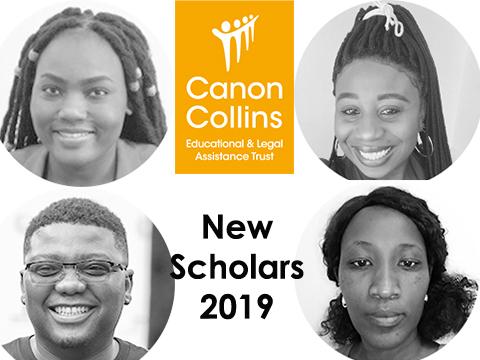 Wednesday, November 21, 2018
London, United Kingdom
We are delighted to introduce our new cohort of change makers from across southern Africa, starting in 2019. These scholars represent some of the brightest young minds from the breadth of the region and spanning a variety of disciplines, united by their commitment to advancing the rights and opportunities of the most marginalized. We've been speaking to Olivia, Thando, Rethabile and Julieth about their journey prior to joining the Canon Collins Trust scholarship community, and the obstacles they have overcome towards reaching their goals.
Olivia Joanes, Angola, MA Social Anthropology, University of Cape Town
Olivia's Senior Lecturer for her Bachelor's degree in Anthropology at UCT described her as a 'newly emerging anthropologist in southern Africa who will develop new perspectives and thereby make a national impact.' Anthropology is a traditionally white discipline and there is a dearth of black, particularly female, anthropologists in South Africa as they are often driven to higher paying disciplines. Olivia was born in Angola during the civil war, raised by a single mother. As a result of the escalation of violence in the late 1990's her mother took Olivia and her four siblings to a refugee camp before moving to Langa township in Cape Town, where they resided in a shack before being sent to Ark Place of Refugee in the Western Cape. Olivia's mother sadly died upon her return to Angola.
On overcoming these struggles in her life and pursuing an MA in Social Anthropology at UCT, Olivia says:
'My dissertation will be an ethnography looking at citizenship beyond constitutional provision in the previously marginalized Cape Flats community of Bonteheuwel. People in this township are dying as a direct result of government failing to honour its constitutional obligations. I have chosen to pursue further anthropological study as it really is a discipline working towards social justice for all, which is often constrained by the law.'
Thando Mgqolozana, South Africa, MPhil Fine Art, University of Cape Town
Thando is the founder and director of South Africa's hallmark literary festival, Abantu Book Festival, staged in Soweto. He was the co-author of Inxeba (The Wound), which was shortlisted for the Academy Award for Best Foreign Language Film Category at the 2018 Oscars. The film explores the issues of identity, masculinity and sexuality in Xhosa culture, and drew widespread critical acclaim and support from over 4000 people upon being classified as x-rated by South African Film and Publications Board on its release, with Thando arguing that the decision was 'draconian' and stifled creative expression. Thando was also named one of the Top 200 Young South Africans in 2010 by the Mail and Guardian.
On his decision to study Fine Art at UCT and acceptance as a Canon Collins scholar, Thando says:
'Until the advent of democracy the communities occupied by black people in South Africa had limited literary infrastructure outside the school system. There were no libraries or bookstores, and no mainstream literary activity. By creating a platform where writers and readers from the black community realise the fullness of their humanity, Abantu book festival transforms the literary space, speaking directly to the most urgent goal of the young nation. I am interested in black cultural production at a time of educational and cultural decolonization, and I will use the practical component of the course to curate a special edition of the book festival.'
Rethabile Malibo, Lesotho, PhD Drama and Performance Studies, Stellenbosch University
Rethabile is a Drama and Performance specialist, and her PhD thesis, entitled 'Applied Drama as a Methodology for Teaching Sexuality Education in Secondary Schools in Lesotho' draws on her extensive experience in community theatres and schools across Lesotho. Rethabile has overcome extremely difficult circumstances on her journey to her PhD, having been the victim of a violent relationship during her undergraduate study, suffering physical and psychological trauma. Nonetheless she used the experiences to inform her production of the Vagina Monologues, and realized that drama can be used as an educational tool for the realization of rights for all.
On her future ambitions, Rethabile says:
'In the next ten years other than being in the academic world I hope to carry on with the applied drama projects through establishing a community theatre institute. My priority areas are working with and training teachers on teaching comprehensive sexuality education as I feel that it is most urgent given the ever increasing HIV/AIDS rates in Lesotho especially within the 12-18 demographics. During the course of my study I have been volunteering and training teachers through workshops organised by UNAIDS, UNCIEF and NCDC and we have had conversations with them of how I intend carrying on with the works once I have completed school.'
Julieth Gudo, Zimbabwe, PhD Law, University of Cape Town
Julieth grew up in an orphanage in Musina, South Africa, after losing both her parents whilst just seven years old. After turning 18 she went to MGM Women's Shelter, where she remains today, having completed her Bachelor's Degree in Law from the University of Cape Town and LLM in Commerical Law from the University of Cape Town. She is interested in the connection between civil society and corporate governance and how the law can be used as a tool to expose corruption and accountability for state and private institutions.
On her leadership skills and resilience, Julieth says:
'I have never been shy to tell my life experiences to young people struggling with different challenges, I have done this at any given chance. I explain to them, that considering my background and even when odds were against me, I managed to enroll back to school after spending so many years not schooling and today I am pursuing a PhD degree. I have inspired so many people who now look up to me and promise to never give up. Armed with this education and life experiences I go back to the orphanage home and refugee centre in my community and teach young people about their legal rights and how they can enforce them. I teach them about life challenges and how to tackle these challenges they face as vulnerable people.'