Canon Collins E-News August 2018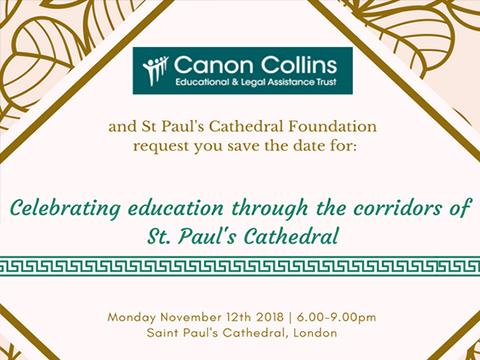 Tuesday, September 4, 2018
London, United Kingdom
Dear Friends,
August was a turbulent month for southern Africa, and now more than ever, the region is calling out for strong leadership, committed to equality and respect for human rights. This month we bring news from several of our scholars, alumni and partner organisations who have been fighting for our collective vision of an open and just society in southern Africa. 
Listen to the new series of 
Canon Collins podcasts
 on international perspectives on scholarship, where we talk to three inspiring Canon Collins scholars and alumni, who discuss how their international experiences have had a positive influence on their ability to bring about social change. 
August also saw the results of Zimbabwe's historic election. Just under half of all Canon Collins scholars this year are Zimbabwean, and many Zimbabwean Canon Collins alumni were actively engaged in ensuring a free and fair democratic election process. For example, we were thrilled that current scholar, 
Joanah Moambe
 was elected as an MP. 
August was also South Africa's Women's Month, and for Women's Day, we profiled alumna, 
Naadiya Moosajee
, whose organisation, 
WomEng
, works to support girls who want to become engineers. Naadiya made it onto South African radio this month, standing up to the CEO of the South African Institute of Civil Engineering, who claimed that women don't suit the engineering field. Follow WomEng's campaign against the CEO's comments 
here
. 
Folliowing our exciting news in 
last month's newsletter
 that our partners, Equal Education had won their case in the Bhisho High Court, we were disappointed to hear that the South African government has decided to 
appeal this decision
, thereby further delaying the implementation of basic infrastructure in schools. EE have faced up to this next hurdle with great strength and determination, and we urge you to sign 
their petition
 in solidarity and the campaign for equal access to education across South Africa. 
#StopTheAppeal
.
Our partners at the 
Legal Resources Centre
 have also been collaborating with Equal Education Law Centre, by defending students' Right to Protest in the South African Constitutional Court this month. We now await judgement in the next few weeks, but read more about the case so far 
here
. 
We are also excited to announce that we will be holding an 
event
 on 12th November at St Paul's Cathedral in London, commemorating both our founder, Canon Collins, who was a Canon at St Paul's, and the many prominent activists that he welcomed to the cathedral in his time. Watch this space for more information in the next newsletter. 
Thanks once again for your continued support of the Trust,

Katie Connan
Learning, Knowledge and Communications Executive