Podcast series: International Perspectives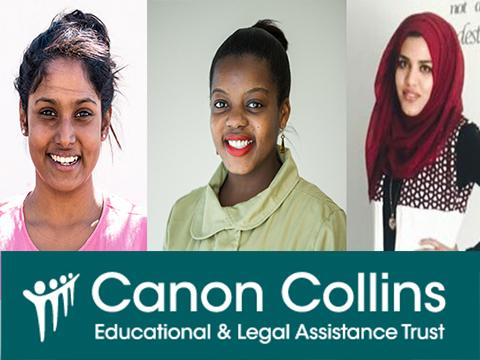 Tuesday, September 11, 2018
Southern Africa
One of the key highlights of the Canon Collins community is how international its members are. Scholars come from across southern Africa to study in South Africa, Ireland, and the UK, and many scholars gain further international opportunities through their scholarships. 
At Canon Collins, we believe that international experiences bring an essential perspective to scholarship and research, and to scholars' abilities to go on and influence social change in their own networks and communities. This month we are excited to bring you interviews with three Canon Collins women, who have benefitted in varying ways from international perspectives on scholarships. 
Inga Macingwane (former LLB Leigh Day Scholar at the University of Fort Hare) is a Canon Collins alumna who is currently studying for her LLM in Human Rights Law at the University of Cape Town, South Africa. Through her Leigh Day scholarship, Inga had the opportunity to go on an educational excursion to the African Union in Addis Ababa. 
During our time at the African Union headquarters, we were able to network and engage with many other students from different African countries who were doing internships there as well. We met various people from different countries, who were exceptional.  The excursion broadened my views in so many ways because I was introduced to various international instruments, which later helped me when I was studying courses like Public International Law and Human Rights Law.
Shehani Perera (Masters in Public Health, University of Cape Town), had lived and studied in 4 countries already by the time she arrived in Cape Town for her undergraduate degree in Social Work. Now studying for a Masters in Public Health with a Canon Collins scholarship, Shehani shares how the Canon Collins conference provides such a Pan-African perspective on scholarship and research. 
At the Canon Collins Conference, I got to meet so many people with similar experiences in trying to negotiate the next part of their journey, their professional growth. Without Canon Collins, I don't think any of us would be in this position, able to do well academically and supporting our purpose... The conference is a great place to challenge yourself to create these networks... It's so important in achieving this Pan-African vision that I think we're heading towards.
Shaakira Yousuf (Masters in Environmental Policy) is using her experiences of studying in Ireland with her Kader Asmal Scholarship to influence her work in business. She explains how such varying perspectives have impacted on her ability to influence cultural change within the business to keep up with the times. 
The scholarship was a great opportunity to come back to South Africa with a different set of skills and perspectives and give something back to my country. When you interact with such a diverse group of people, you are forced to take everyone's perspective into account to find a holistic solution. Part of changing mindsets involves all of this, and the Kader Asmal scholarship gave me this skill when working to change mindsets in my current work.