Victory for EE in scholar transport case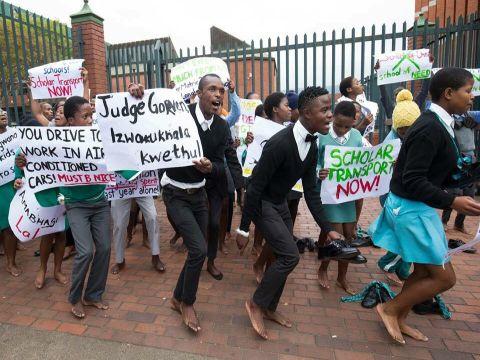 Friday, November 10, 2017
Nquthu, South Africa
Our partners at Equal Education have long advocated for improving educational opportunity in South Africa - and given the gruelling journeys thousands of South African school children face on a daily basis, the issue of providing scholar transport remains pertinent. Reports from recent years reveal the dire situation in relation to school transport, with 69% of learners walking the full distance to school and many children forced to take shared taxies. 2014 statistics also revealed a significant socio-economic divide, with 83% of children from the lowest income-bracket walking the entire distance to school compared to just 19% of children in the highest income-bracket.
EE went to court in Pietermaritzburg last week as part of their #LongWalktoSchool campaign to demand scholar transport for students at 12 rural schools in Nquthu, KwaZulu-Natal. Represented by the Equal Education Law Centre, they were successful in their demands for the Department for Education and Transport to provide scholar transport for all 12 schools by the 1st of April 2018.
Since 2014, EE have been campaigning to eradicate the extremely lengthy commutes that leave learners exhausted before they arrive to school, and exposing them to severe weather conditions andviolent crime. The court case comes in light of reports that the Department of Basic Education have not been providing accurate statistics regarding the numbers of pupils needing transport in South Africa. It was reported that in KwaZulu-Natal, where EE have been advocating for improved transport facilities, Department estimates that around 90,000 pupils are in need of transport are hugely underestimating the scale of the problem.
Ruling in favour of EE, the court has ordered that the Department's of Transport and Education provide evidence of scholar transport provisions both for Nquthu and the wider region by April, 2018. This verdict follows previous successes for EE in 2015, including the introduction of government-subsidized school buses and the publication of the National Learner Transport Policy.