Victory in courts for LRC and the right to protest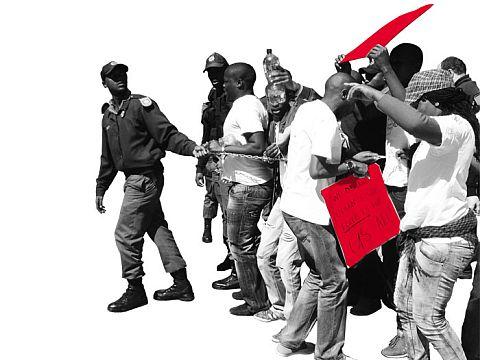 Thursday, January 25, 2018
Cape Town, South Africa
Our partners at the Legal Resources Centre have scored a historic victory in their representation of the Social Justice Coalition, who were pursuing an overhaul of Section 12(A) of the Regulations and Gatherings Act (1993) which was being used to criminalise peaceful protest.
The issue first gained media attention back in 2013 when Social Justice Coalition activists were arrested after chaining themselves to railings outside the office of Cape Town Mayor Patricia de Lille, protesting against unclean and unsafe janitorial services. Two years later, 10 of the activists were granted leave in order to challenge the constitutionality of the apartheid-era ruling on Regulations and Gatherings, which had claimed that conveners of marches and protests with more than 15 people were required to give 7 days' notice in advance of the protests. In reality, protestors were often expected to submit a long list of information including names and contact details of conveners, detailed reasons of protests and a detailed route of the protest, as Ground Up reported. The issue also gained headlines in Johannesburg after police issued a R140 administrative fee to protesters, criticized by the head of legal transparency campaign Right2Know. Civil society organizations across the country argued that the aforementioned preconditions to protests were in opposition to Chapter Two, Section 17 of the Bill of Rights claiming that "Everyone has the right, peacefully and unarmed, to assemble, to demonstrate, to picket and to present petitions."
The Legal Resources Centre represented the SJC 10 group of civil society organizations advocating for an overhaul of the Section 12(A) of the Regulations and Gatherings Act, and the case was heard by the Western Cape High Court in 2017. On the 24th January the long wait for justice was over after Judge Ndita ruled that Section 12(A) of the Act was unconstitutional as it 'limits and criminalizes peaceful protest.'
The judgement read as follows: "The criminalisation of a gathering of more than 15 on the basis that no notice was given violates s 17 of the Constitution as it deters people from exercising their fundamental right to assemble peacefully unarmed…the limitation is not reasonable and justifiable in an open and democratic society, based on the values of freedom, dignity and equality…Section 12 (1) (a) of the RGA is hereby declared unconstitutional".
This victory is an historic moment for both the Legal Resources Centre and the Social Justice Coalition in overturning apartheid-era legal rulings which contradict the freedoms and values underpinned in the South African constitution, and the Canon Collins Trust congratulates them on their efforts.