Rising fees and the right to protest in Zimbabwe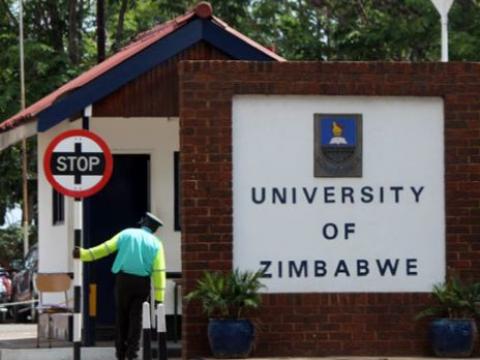 Harare, Zimbabwe
This June saw students at the University of Zimbabwe (UZ) hold large demonstrations against ongoing fee increases after it was announced by the university administation that tuition fees for medical students were to be doubled. Mass dropouts are the stark reality of these ongoing fee hikes that render higher education completely unaffordable for most students, in a country crippled by unemployment and ongoing economic crisis. A particularly poignant image from the protests came from female medical students waving placards inscribed "Girl child, tatambura [we are suffering] toihurira here [should we prostitute for fees?] #FeesMustFall".
In response to the protests, UZ served eviction orders to all medical students, a decision that was widely criticised as severe and heavy-handed, especially considering students were amidst preparations for upcoming exams and were faced with the traumatic prospect of being stranded and having to scramble to find emergency alternative accommodation.
However, after an urgent application was filed by one of the evicted students, the High Court ruled against the University of Zimbabwe by setting aside the eviction order, describing the institution's actions as 'arbitrary' and 'irrational'. It was submitted that the eviction violated the students' right to peacefully demonstrate and petition, as enshrined in Zimbabwe's Constitution.
This may be a short-term legal victory for the student protesters, however, larger issues of the crisis in Higher Education funding and protection of the right to protest remain unresolved. Most worryingly, reports are emerging of student activists having been abducted and tortured following their involvement in the protests, indicating the precarious position of those who seek to rock the boat or challenge the establishment in Zimbabwe.
Many Canon Collins scholars have significant expertise on issues of Higher Education, Constitutional Law and the right to protest in the Zimbabwean context. We have gathered some of their insights regarding the top level mismanagement and underfunding that has triggered these student protests, the potential implications for democratization movements, and the feasibility of fee free education in Zimbabwe.
Shepherd Mutsvara (LLM Law, University of London) is a legal professional with expert knowledge and work experience in the fields of education, law and journalism. His focus is on human rights law and he is particularly interested in applying a human rights framework to the experience of refugees, women and children.
"Student activism in Zimbabwe has been pivotal in reflecting the effects of economic downturn and national politics of the nation. The higher education space, particularly in state owned universities, has deliberately suffocated academic freedom through laws that give the government an oversight role over the governance of universities. However, despite the negative factors dampening the spirit of student activism in Zimbabwe, the institutions of higher education continue to be corridors of candid socio-political dialogue and produce competitive graduates.
The recent newspaper reports  on the expulsion of University of Zimbabwe medical students who protested against doubling of fees is an indicator that student activism has helped to confront unreasonable government policies that do not take into account genuine student's grievances.
In a nutshell, student activism in Zimbabwe has always been premised on government's shortcomings and aimed at realigning the socio-economic and political landscape. Many observers firmly believe that as long as the head of state remains the chancellor of public universities and the state continues to interfere with the institutional autonomy of universities, students will voice their concerns and confront the state. There is also a need to review laws that criminalise student protests and inculcate fear amongst University staff and students. This will help cultivate academic freedom and harness positive energy from students as they help to advance knowledge and realign the skewed social status quo in Zimbabwe."
Lisa Sidambe (MPhil Public Law, University of Cape Town) is interested in governance and public service as a means to contributing to social justice in Zimbabwe and the wider region.
"I was tempted to echo that it is still too early to envision what the outcome of this [student protest] movement might be but I quickly had to face the reality that as a young Zimbabwean I may simply be lacking in the ability to dream beyond today and envision what structure tomorrow might assume. The socio-economic and political environment that I have grown up in has robbed me of the imagination and the ability to dream and aspire to something greater than scrambling for any transient and limited opportunity. This has been the greatest of all crimes against my generation.
The Fees Must Fall movement presents numerous opportunities. An opportunity to (re)define the sanctity and integrity of university spaces; a reawakening of an ability to dream, imagine and claim the right to have ambition that can be translated to reality; a restoration of authentic generational dreams that were stolen or were discarded by the wayside to be trampled on; an encouragement to receive education abroad and imagine the numerous ways in which it can translate to innovation and revolution at home. Most importantly, this presents an opportunity to revive the spirit of broader student activism that has, in previous generations, been a major contributor to democratic reform in the country. Embracing this spirit however, does not translate to singing the same tune other student movements have sung before and in the same voice. Our generation calls for relevance and leadership that will distinguish itself by mastering the art of "coping with new challenges and new opportunities."
Dauglous Tsanyau (LLM Labour Law, University of Fort Hare) is passionate about Labour Law and the rights of workers in southern Africa. In the future, he hopes to contribute towards the advancement of justice, peace and democracy within the workplace.
"I strongly believe that free education to the poor and subsidies to the so called "missing middle class" is a necessity for healing prevailing injustices within the education arena. The Zimbabwean economy is not ready for free education for all, but a reasonable and feasible fee structure urgently needs to be implemented.
 We must address crucial underlying issues as we consider the matter of low fees, for the larger crisis will continue unless it is taken in hand. Of these problems the most important is that Universities are inadequately funded. Many students are left to flounder within underfunded institutions and on less personal funding than they require to survive. Overstretching the limited resources of the few sponsors in Zimbabwe has diminished the quality of education and exacerbated an already high drop-out rate. The Universities should welcome Non-Government donors and companies, who pay the fees on behalf of the students. Additionally, state subsidies, directed through the Ministry of Higher Education should be made widely available to disadvantaged students and allocated based upon a fair and feasible formula.
Fees must not deprive citizens the right to education. It must be a tool for empowerment and liberation. Social justice demands demilitarisation and de-securitization of campuses and the government must promote, protect and fulfil its obligations as demanded by international norms. Perhaps the most important recommendation I can make, without which none of the scenarios above would even be remotely possible, is for the National Treasury to be persuaded that a greater proportion of GDP must be allocated to Universities and students at large."
Hilary Musarurwa (PhD Public Management, Durban University of Technology) is a social entrepreneur, action researcher and youth empowerment activist. Hillary is currently researching the use of social entrepreneurship as a peacebuilding tool to address social injustice and poverty amongst youth in Zimbabwe. This stems from his support of the use of non-violent action to bring about social change.
"This incident is not isolated. In fact, it is reflective of the nature of tertiary education in Zimbabwe, where structural and cultural violence against students in rampant and they suffer in silence. Many have been forced to drop out of their studies because they cannot afford the fees. In the absence of a reliable and transparent scholarship or bursary program, students from poor households endure the brunt of social injustice and exclusion.
Amidst all this gloom, it is warming to note that the students are exercising their rights and are speaking out. However, they must tread carefully given the oppressive nature of Zimbabwean institutions and their heavy-handed response to student protests regardless of how peaceful they may be. Going forward, students organisers must ensure that they employ all non-violent strategies at their disposal".