LRC awarded Gold Medal for public service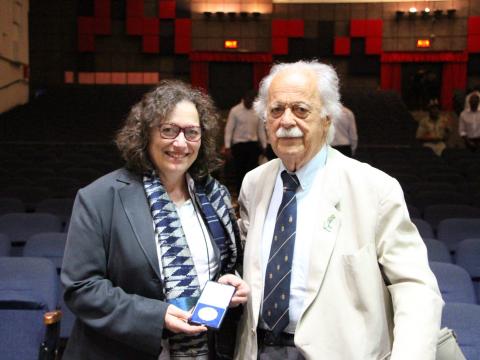 Johannesburg, South Africa
Congratulations to our partners at the Legal Resources Centre who have been awarded the University of the Witwatersrand's Gold Medal in recognition of their vital litigation work on behalf of poor and marginalised South African communities.
Acceptance speech by Janet Love, LRC National Director:
On behalf of the Legal Resources Centre, I would like to convey our appreciation to the Council of Wits University for the honour and distinction bestowed upon us through this Award.
Wits is the alma mater not only of Arthur Chaskalson and Felicia Kentridge – two of the founders of the LRC – but also of many others who have made the organisation what it is today – including stalwarts of our struggle like George Bizos, the LRC's internal Senior Counsel, and Thandi Orleyn, the Chairperson of our Board of Trustees, who are here with us tonight. Wits is also the trusted custodian of some of the LRC's archives and papers. In addition, our work has been enhanced through the partnerships and working relations we have forged with many components of the University including the Centre for Applied Legal Studies, the Wits Law Clinic, the former Wages Commission with its links to the Industrial Aid Society which served as one of the first Advice Offices supported by the LRC, the Sociology of Work Programme (SWOP), the Joburg Centre for Software Engineering (JCSE) and the Students for Law and Social Justice – to name just a few. So this Award and the recognition it embodies has special significance for us.
Thank you also for affording me this opportunity to make a few remarks at this graduation ceremony. Firstly, congratulations to the students! Whatever your individual or collective views are, or whatever the extent of your activism while on campus: you will look back at this period and know that you were part of the turbulence – a turbulence that may develop into the winds of change. Engagements with and within the #FeesMustFall movement have seen the emergence of the so-called 'flat-line' leadership structures rather than the channelling of discussion through traditional structures that were used when I was a student. In this different 'flat-line' formation may lie the seeds of much innovation in terms of engagement and organisation, and some of this may be enabled by innovations in the social media space.
However, currently there are multiple processes (the Fees Commission, the Higher Education Ministerial Task Team, the Mandela Foundation's Higher Education National Convention) and I wonder how much students have been able to engage thus far amongst themselves about these issues or within all or any of these processes. The linkages from one campus to the next seem tenuous at best. These are the challenges of organisation: so although current organisation may be innovative and responsive to the current mood, it may simultaneously make the development of alternatives and finding the pathways forward additionally difficult. Discussions around decolonisation and critical race theory which also do not, in themselves, resolve the debate about free education for all versus free education for the poor and the related discussion about what thresholds or mechanisms could or should be used to determine poverty. And there are many other critical issues affecting students ranging from access to bandwidth and data to student living conditions.
Much as I believe that the values of our Constitution are a guide to action and include a clear imperative for fundamental transformation of our society, exactly what this transformation actually looks like – and how we get there – are issues that require organisation and leadership at all levels and in all spaces. It is our individual and our collective responsibility. There is no script. There is no single answer. There is no one path to bring about the Constitutional promise and to ensure that inequality is not exacerbated by the options we choose. This is as true for the right to water as it is for the right to education.
The travesty against justice that was colonialism and the crime against humanity that was apartheid are with us today in many ways. We can point to change and progress but this cannot disguise our failures. For example, we have failed to effect the land restitution and land reform programme. We cannot deny that we have failed to hold accountable those who treated the Truth and Reconciliation Commission with disdain – they have not been brought to justice and reparations have not been made. Inequality has grown and exclusion is something that is not openly, actively and constantly reckoned with as it needs to be.
The LRC seeks to advance inclusion and equality; to secure dignity and development for all; and to enable our democracy: through using the law to make our Constitutional framework deliver on its promise to all in South Africa. To this end, we provide free legal services for vulnerable people including: those who suffer discrimination by reason of race, class, gender, disability or through historical, social and economic circumstances; and those who stand up against abuse of power and corruption. To these ends, we use a range of strategies to bring about creative and effective solutions. The law and our use of it, is only one part of the picture. What we do cannot happen without the organisation of and the leadership and mobilisation by the clients we represent. And we too need to do more to transform. This includes the demographics within our own organisation and making more consistent progress towards transforming the legal sector including ensuring that there is a greater consciousness with regard to who from the members of the Bar are briefed in our matters. And it also involves being more creative about the way we engage in the broader public space.
The rule of law cannot exist in a media bubble; it needs the argument surrounding a case to be built in the public mind; it needs the solutions to be sought and articulated; it needs a dominant narrative to be developed in order to make the processes of the law and objectives of any particular case to be clearly understood and to have a real prospect of being meaningful in improving the day to day lives of ordinary people. The law needs to secure this influence to enable it to be a real check and balance on those with political and economic power. Yet, who dominates the narrative? Is there adequate transparency and information? Is there conscious effort to engage, persuade and convince? These issues and questions are as relevant to each and every one of our cases as they are to the debates around higher education.
We need to be conscious of the fact that all institutions are fragile. While we see political parties – and particularly those in power – cannibalise their own support, we watch as some seek to unravel the social compact we achieved at the dawn of our democracy without laying any ground for alternative ways to take forward people's aspirations.
As there is repeated failure to hold those in authority accountable, we know that this is compounded by corruption, the manipulation of public institutions and the hollowing out of critical areas of governance. And in this way, the peoples' trust in institutions – all institutions – begins to break down. And once broken, this trust is difficult to restore – regardless of who is in office.
We are not unique. There is a loss of credibility the world over in the ability of the State to deliver. This has led to the politics of negation, disruption and often to fragmentation. It is an unknown that stands before us as we let institutions break down without visualising what comes instead and this makes it both scary and dangerous: scary because building is a more painstaking process than destruction; and dangerous because into a vacuum can come the rhetorical noise of an empty drum which promises all but does not offer alternatives or deliver anything.
It is into this vortex that those who have just completed your studies are stepping. Impatience is not enough. Leadership, facts and figuring out how something can be achieved – these are vital.
"Facts matter," said the former US Vice-President, Joe Biden. Yet without taking hold of the narrative and without doing more than confining our engagement to 144-character twittering exchanges, facts will continue to elude us and the public consciousness.
How do we locate the law in the context of fact? This is important for our work and for ensuring that the promise of our democracy is realised. For example, the Constitution is unambiguous about the need for land reform and land restitution and explicitly provides for the option of expropriation. The Constitution takes the view that any consideration of compensation – it does not say that compensation is a requirement – must reflect "an equitable balance between the public interest and the interests of [all] those affected" – including those who had their land forcibly removed and those who have occupied it in the period since. It requires all relevant circumstances to be taken into account, including the history of the acquisition, the use of the property over time and the extent of direct state investment and subsidy.
So what has gone wrong? Why has there been so little progress? Why has this, 'the Property Clause', been used to enrich a few at the expense of many? Why has it excluded rather than included? We should all ask. But there is simply no factual basis for blaming the Constitution and the wording of the clause itself. By doing so, we miss the point. We allow the real reasons that relate to the failures in implementation and often to corruption to be obscured thereby delaying the urgently needed correction.
The Constitutional structures and principles are there to serve people, and in particular poor people. We need to remember that the judiciary, too, is a fragile institution and cannot and should not bear the burden of failures of other organs of State; nor should it have to grapple with the failures of those who approach the Court without having given adequate thought to the practical challenges of implementation; to the challenges of oversight; to challenges that accompany the processes for enforcement – all these need to be crafted as options to be addressed as part of proposed remedy. Not just in Court but in our society and in debates and matters beyond.
Judicial independence needs independent lawyers who recognise that the legal profession is under an obligation to serve the public interest. Lawyers and all graduates and professionals cannot serve only the elite in our society and services have to be available to all who need them. This is part of what needs to become embedded in all of our missions and imaginings.
We have a Constitution which limits the power of the State from interfering with the rights of the individual and which also addresses the regulation of private power. In this, we really lead in the world. It is a Constitution which expressly empowers the state to address and redress the consequences of centuries of dispossession and discrimination. It requires inclusion. It is a Constitution which provides the basis and the imperative to make this our individual and collective responsibility. So let us get on with it – let us all move ahead with the business of using our Constitution to the fullest extent possible in everything we do.
Thank you.