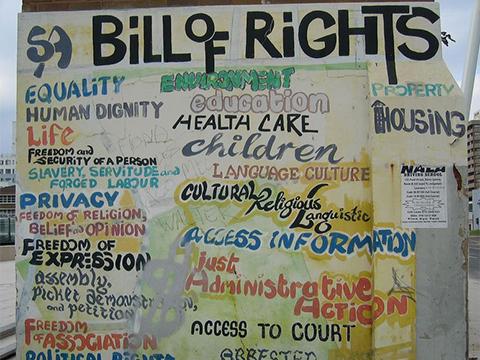 Wednesday, March 21, 2018
London, United Kingdom
March 21st 2018 marks 58 years since the Sharpeville Massacre, which saw the deaths of over 60 black South Africans, killed whilst protesting against the restrictive "Pass Laws". Such laws were formally introduced in 1923 in the Natives (Urban Area) Act, designed to restrict the movement of non-white citizens by requiring them to carry passports when outside their homelands. Such a grave violation of the free movement of people in their own country led to around 7,000 activists from the Pan-African Congress meeting in Sharpeville, fifty miles south of Johannesburg, and demanding an end to these restrictive laws. What followed was a violent clash with 300 police offers resulting in the deaths of 69 black South Africans and a further 186 wounded.
South Africa has much to be proud of when reflecting on the 58 years which have passed since the Sharpeville Massacre. By 1994, the Apartheid government had fallen and universal suffrage and the introduction of a progressive new Constitution had seen the civil liberties of all South Africans, irrespective of their skin colour, enshrined in law.
Yet on this Human Rights Day, 100 years since the birth of Mandela, the first post-Apartheid leader of South Africa, there is a need to be cautious and vigilant in spite of such excellent progress in fighting discrimination in all its forms. Whether it be advocating for improvements in basic education by our partners at Equal Education, protesting for the right to improved housing as part of the #LandforLiving movement, or ensuring the treatment of the mentally-ill and vulnerable is upheld following the Life Esidimeni tragedy, there is an activist mindset among the Southern African population, which aims to hold authorities to account in securing Human Rights for all.
We sought the views of some of our Activist Scholars on this significant day to gain an understanding of the need to reflect on progress and continue to fight for Human Rights for all.
Hlengiwe Dube, studying for her PhD in Human Rights at the University of Pretoria, said:
"I wish to reflect on article 21 of the African Charter on Human and Peoples' Rights that mandates state parties to manage their natural resources for the benefit of their people…undertake measures that prevent 'all forms of foreign economic exploitation to enable their peoples to fully benefit from the advantages derived from their national resources.
As South Africa celebrates Human Rights Day, it is appalling that with the abundance of natural resources, many South Africans continue to live in abject poverty. Thus if South Africa is to fulfil its obligations under the Charter, they can generate positive human rights outcomes that will benefit citizens in a way that creates a balance between the need to attract investment while adhering to the fundamentals of social justice and human dignity."
Refiloe Damane, from Lesotho and studying at SOAS, highlights a prudent example of people fighting against institutional failings:
"It would be unfair not to commend South Africa on what it has achieved in the global pursuit towards the realisation of human rights – broadly defined. Its aspirational Constitution is extolled by many across the Southern African region, if not the world. But of course, it is equally important to admit that the nation's road towards realising many of the rights enshrined in that constitution has been fraught with contradictions. This has clearly been evident in the Inxeba classification storm. When the Film and Publication Board re-classified Inxeba, a film that explores the emotional pain of being homosexual and Xhosa, to a rating reserved for adult films, it revealed the wide chasm that continues to exist between the Constitutional guarantees and actual lived experiences of South African citizens.
However, it was quite pleasing to see some people reject that ruling, by taking the FPB to court, which led to the film returning to cinemas earlier this month. Such actions that demonstrate citizens' moral conviction to stand up for their rights is very much a welcomed act for the rest of the region. It remains incumbent that South Africa, as the effective hegemon of the region, proactively claims leadership in this issue."
University of London Distance Learning Scholar Kelly Kropman warns there are still causes to fight for:
"I look at this human rights day with a mixture of happiness and melancholy. The Life Esidimeni Tragedy has come to an end and as a result the victims and the families of the victims can look forward to some form of closure. I am happy because the arbitration has led to the development of the jurisprudence on constitutional damages in South Africa and this can be a powerful tool for litigation on human rights based violations both at the hands of the State and private actors. This may make people think twice about being violating the rights of vulnerable people.
I am sad because 24 years into our constitutional democracy there are still flagrant human rights based violations which occur on a regular basis. This is especially evident when looking at the most marginalized in South Africa. From issues of access to basic services to education the State is still failing to adhere to its constitutional responsibility."
And our Scholar's Scholar, Princess Alice Sibanda, shared with us a touching poem she wrote commemorating the day, which can be read on our Twitter page here.