Alumni perspective: 2018 Scholar's Conference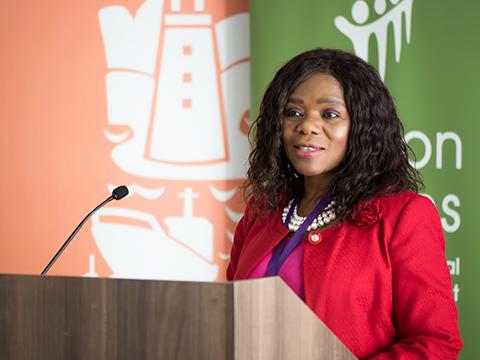 Cape Town, South Africa
Challenging Boundaries, Claiming Rights' was the captivating title of the 2018 Canon Collins Scholars' Conference; a title decided on after a series of consultative workshops with scholars and alumni eager to debate the various barriers constraining the realisation of rights in southern African societies.Setting the tone for the conference were keynote addresses by two phenomenal women - the former Public Protector and one of TIME's 100 Most Influential People Advocate Thuli Madonsela, as well as the esteemed feminist author and academic Professor Pumla Gqola. Thereafter the floor was open for scholars to debate amongst themselves through various forums that included roundtable discussions, workshops, and research discussion groups.
There were numerous highlights for me. The first was a Moot Court competition for law scholars facilitated by the notable Advocate Tembeka Ngcukaitobi, author of 'This Land is Ours', and Mandy Mudarikwa of the Legal Resources Centre (LRC). It was wonderful to see scholars putting their legal knowledge into practice in this heated debate. I was also gripped by the roundtable discussion on what scholars studying outside of their country of birth owe their homeland. This session was led by alumnus Dewa Mavhinga, a Zimbabwean by birth, living in in South Africa where he is the Director of the Southern Africa division of Human Rights Watch. And then of course, listening to the scholars present their research was incredible – the range of topics and depth of their engagement with critical issues affecting our societies was remarkable. 
Unfortunately hard choices had to be made, and I was not able to attend all the parallel sessions. I heard great things about the 'Writing for Publication' workshop run by Dr Pamela Nichols, as well as the 'Participatory Theatre for Social Justice' workshop run by scholars Princess Sibanda and Chiedza Chinhanu. There were numerous other sessions that scholars and alumni said were inspiring. Do have a look at the stellar range of panellists who debated interpersonal and structural boundaries and thought provoking input from activists from Ndifuna Ukwazi, Advocate Tembeka Ngcukaitobi and academic activists Dr Asanda Benya and Siseko Kumalo.
However, overall, (and completely unbiased!), I have to say that my greatest highlight was Saturday evening's dinner hosted by the Canon Collins Alumni. Kline Smith, our warm and funny host and MC, kept everyone entertained as the programme flowed freely with the drink and food. Dewa Mavhinga gave an eloquent keynote address, speaking from personal experience about how scholarships can activate the transformative power of education.  A scholarship can transform a life, lighting the match for the flame of leadership to burn bright. Princess Sibanda is the perfect marriage of an activist, artist and academic, doing ground breaking work to reclaim the humanity and dignity of sex workers through the medium of participatory theatre.
Overall, I came away from the conference with a renewed and strong sense of hope for the future – a hope instilled by the impressive emerging leadership so evident in the cohort of Canon Collins scholars.
Dr Wonga Hexana is a Canon Collins Alumnus. The Trust wishes to thank all Alumni who helped to facilitate sessions at the conference, and Webber Wentzel for hosting us this year.