Emergency relief for vulnerable shack dwellers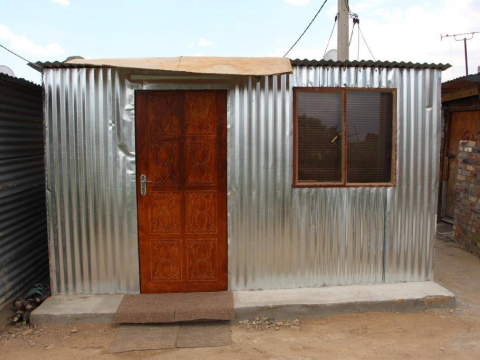 Johannesburg, South Africa
Following an urgent interdict made by our partners at the Legal Resources Centre on behalf of the residents of Silvertown informal settlement, the City of Johannesburg has implemented vital repairs to the previously dilapidated dwellings.
The shacks, where residents have been living since eviction from their previous homes 10 years ago, had been in a terrible state of disrepair and were at serious risk of collapse. Flash floods in December, 2016 had caused significant damage to the shacks' already weakened structures of corrugated iron and gum poles.
The renovations, including installation of cement flooring and replacement of leaking roofs, are not a permanent solution to this community's housing needs but the dwellings will now at least provide suf­fi­cient shel­ter to with­stand the ele­ments for the dura­tion of the rainy sea­son.
In 2016, CCELAT secured a five year Comic Relief grant to support the LRC's litigation work in the realm of housing and the right to shelter. The LRCs lit­i­ga­tion work has regularly forced author­i­ties and land­lords to con­front the fact that, at its most basic, human dig­nity can only be main­tained in a con­text where shel­ter is a real­ity. The LRC has taken a series of cases that has made it dif­fi­cult to evict peo­ple where they have nowhere else to go. It has also attempted to enable clar­ity to be pro­vided with regard to what it is that gov­ern­ment has to do to realise the right to hous­ing, and taken action to that ensure that gov­ern­ment ful­fils such oblig­a­tions.