EE's #LongWalkToSchool campaign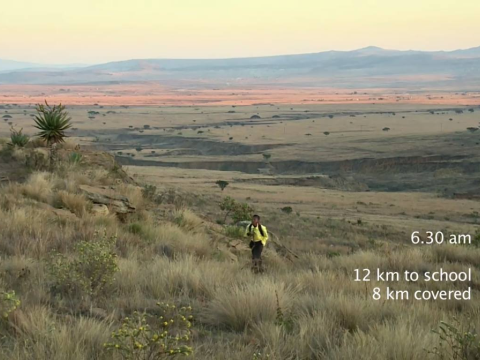 KwaZulu-Natal, South Africa
Our partners at the Equal Education (EE) have continued their ongoing fight for government-subsidised scholar transport in KwaZulu-Natal (KZN) and in South Africa, by initiating legal proceedings at Pietermaritzburg's High Court.
For over two years, EE and Equal Education Law Centre (EELC) have been working to secure access to scholar transport for 12 schools in Nquthu. The hard-fought victories achieved so far, such as the inclusion of the provision of government-subsidised buses to three schools in Nquthu in Northern KZN and the publication of the National Learner Transport Policy, can be attributed to action undertaken through EE's #LongWalkToSchool campaign. Mobilisation and protest, engagement at the political and bureaucratic level of provincial government, and multiple submissions to Parliament have all been imperative features of this campaign.
However, as the KZN Departments of Education and Transport maintain their reluctance to provide scholar transport to seven of the 12 schools, learners continue to be forced to walk punishing distances to access an education. The video here depicts a young scholar, Siphilele Thusini, who was one of 2 million learners in this vulnerable position which exposes them to severe weather and violent crime, as well as arriving to school exhausted.  Therefore, it has now become necessary for Equal Education to litigate.
As emphasised by Canon Collins Alumni and EELC attorney, Solminic Joseph, who states that, 'It's easy to see it on paper, but to see the distances and the terrain that he covers one has to feel for these kids… it gives you a sense of urgency.'
EE is requesting the Pietermaritzburg High Court to do among the following:
1. To declare that the failure to provide scholar transport for the learners of the 12 Nquthu schools identified by EE as in need, violates the constitutionally protected right to a basic education; and
2. To require the officials from the KZN Departments of Transport and Education to reconsider their decisions to refuse scholar transport to the 12 schools and to explain to the court what steps they plan to take to fix the situation, and by when.
We will continue to provide updates on the case, and further information about EE's work can be found on page 14 of our Annual Review.